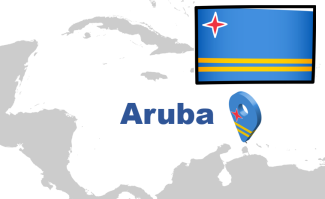 Going Global with Orchid in…Aruba
Orchid's Sage add-on software has taken root in many corners of the world, including Aruba the the South Caribbean.
Continuing our Going Global theme, we're taking 'shallow dives' into some of the more exotic, far-flung, or lesser-known locations that make up the 80+ countries where Orchid's Sage Add-ons have taken root.
Our first article in this series featured the landlocked Kingdom of Eswatini. This time we head for the South Caribbean island of Aruba, where multiple partners have implemented Orchid products.
Ten things you may not know about…Aruba
(Most of the information below is sourced from Wikipedia.)
The island is believed to have been populated for over 4,000 years. The Spanish claimed it in 1499, and the Netherlands seized it from them in 1636.

Aruba, officially the Country of Aruba, is a 'constituent country' within the Kingdom of the Netherlands, and is one of 6 islands commonly referred to as the Dutch Caribbean. All its citizens are Dutch nationals.

Most of the population is descended from Caquetio Indians, African slaves, and Dutch settlers.
The name Aruba is thought to be derived from the Caquetio word 'Oruba', meaning 'well-situated island', which morphed into the Spanish 'Isla de Oruba'.
32km long but only 29km from the Venezuelan coast, Aruba sits outside 'Hurricane Alley', and its dry, sunny climate attracts visitors year-round. Today, tourism and related industries account for about 75% of economic activity.

Aruba, Bonaire, and Curacao are often collectively known as the ABC islands.
The Spanish nicknamed the ABC islands Islas Inútiles, or 'Useless Islands', after failing to find gold on them.

Ironically, the Aruban Gold Rush started when gold was discovered on Aruba over 300 years later.
Aloe was introduced to Aruba in 1840, being well suited to its arid climate. At one point Aloe Vera fields covered two-thirds of the island, and Aruba was the biggest exporter of Aloe Vera in the world.

That same arid climate made Aruba poorly suited to commercial plantations, meaning it escaped the fate of large-scale slavery that befell many other Caribbean islands. That said, many native Caquetíos were enslaved to service the mines of Hispaniola.

For many people, myself included, their first exposure to the island is likely to have been the opening line of The Beach Boys' classic song, Kokomo:
Aruba, Jamaica, ooh I wanna take ya. Bermuda, Bahama, come on pretty mama…
Orchid EFT's Global Footprint
Today, Orchid's EFT Processing supports 800+ bank formats in 80+ countries. It is now available for both Sage 300 (AP/AR) and Sage Intacct (AP).
From Aruba to Zimbabwe, Eswatini to Ethiopia, we may already have the format you need. If not, just let us know and we can set it up!