Process Scheduler
Schedule your critical business processes to run automatically and unattended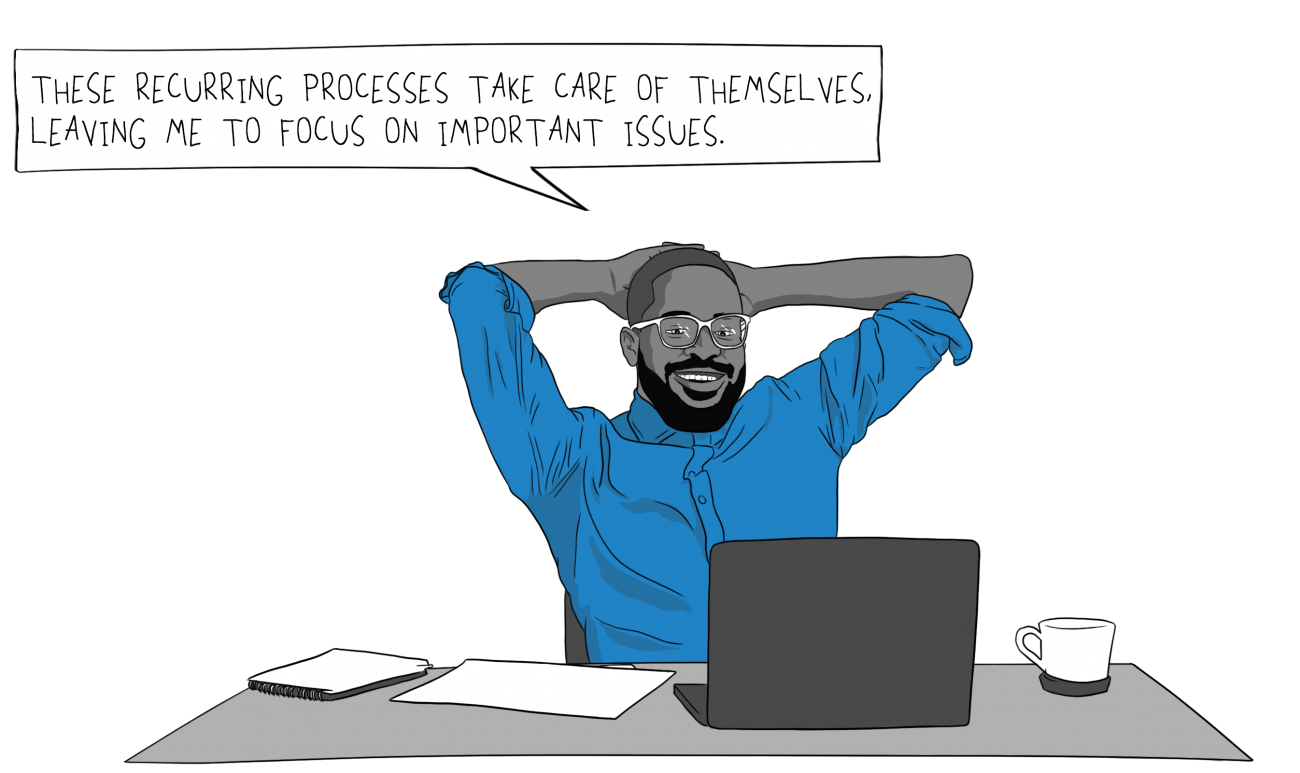 "Orchid Process Scheduler works like a charm! Awesome product. The client loves it."
BRIAN MCINTYRE, DSD-CRM SOFTWARE, WINNIPEG, CANADA
No need for operations staff to manually kick off & monitor recurring Sage 300 processes
Easy to learn & use, create and run complex schedules with no programming
Avoid performance degradation, resource conflicts, and staff down time by executing critical processes outside business hours
Status notifications and error alerts automatically emailed for peace of mind
Have confidence that your data is being checked on a regular basis
Automate database backups through Sage 300's DBDump utility
Detailed history logs let you report on the success or failure of scheduled actions at any time
Process Scheduler Features
Flexible Setup
Set up multiple schedules as recurring jobs
Allows you to take advantage of the flexible scheduling capability of Windows Task Scheduler
Specify what happens next upon success or failure of any scheduled task
Define email templates for use when sending status emails from schedules
All schedules are tracked, and a history of the scheduled actions (success or failure) can be reported on at any time
Optionally send email alerts (Always, or Only if Errors)
Data Integrity Process Automation
Typical automations include:
Schedule Sage 300 to check the integrity of your data unattended
Specify which companies and which modules must be checked
Send alerts when new errors are detected
Keep a history of previous integrity check results, and optionally clear old logs
Keep your testing and reporting databases up to date with overnight refreshes
System Process Automation
Typical automations include:
Run day ends, and optionally post batches
Post AR, AP, GL, IC and PJC batches
Automatically dump your data for backup
Copy/load your data for testing and reporting
Schedule custom processes and programs
Schedule & reconcile GL Consolidations Export and Import
Automate notification, per company, of changes to active Sage 300 Modules and Product Update details
Close last fiscal period and open next fiscal period, open new fiscal year
Check disk space on a nominated drive, and send an email if below a threshold
Process Scheduler is available in 3 Levels
Select the level required for your requirements and upgrade later to the next level if your requirements change.
Level 1
Actions Available for:
Data Integrity
Crystal Reports
Info-Explorer Cubes
Extender Scripts
Active Module Notifications
Check integrity of a single module
Check integrity of all modules in a company
Dump database
Sage 300 Service Pack Audit (document active modules & service packs)
Clear Data Integrity Log
Refresh Info-Explorer Cube
Run Report Runner for Crystal Reports
Check disk space
Send email
Run Extender Script
Level 2
Day End & Posting
All Level 1 Actions, plus:
Day End:
AR, AP, and GL Posting Options:
Post all batches
Post all batches in a module
Post all Ready to Post batches
Post all Ready to Post batches in a module
Post System batches (all, or in a single module)
IC Posting Options:
Post IC Receipts, Shipments, Adjustments, Internal Usage, Transfers, Assemblies
Post all IC documents
PJC Posting Options:
Post PJC Timecards, Equipment Usage, Charges, Costs, Revenue Estimates, Material Usage, Material Returns, Material Allocation
Post all PJC documents
Level 3
Advanced Actions
All Level 1 & 2 Actions, plus:
Load Database
Copy Database
Run Program (Wait)
Run Program (Don't Wait)
GL Consolidations Export
GL Consolidations Import
Run Report Runner for GL Financial Reports
Open period, close period
Open year
Open next period
Close Earliest Open Period
Discontinued action:
Support for AVBs has been discontinued due to security changes in recent versions of Windows. The option to run AVBs has been left in for those sites running older versions of Windows.
Features relate to the latest supported version.
Process Scheduler requires Sage 300 System Manager.
Users can upgrade from one level to the next.
International Contacts
Please contact us directly if your business is in the UK, Europe or other regions not listed here.