Notes
The easy way to attach context-sensitive notes to Sage 300 screens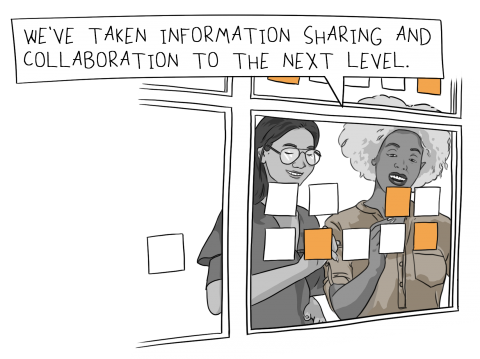 "Truly, my mind is overflowing with the possibilities of the interplay between Extender and Notes…such a game-changer!"
DAVID GELULA, GELULA CONSULTING, ILLINOIS, USA
Improved collaboration through better information sharing
Context-sensitive information where and when it's needed in Sage 300
Save time and improve customer service by having key information readily at hand
Control who sees which Notes by configuring role-based rules
No more thumbing through Operations Manuals, or searching for lost reminders
Supports remote working and multi-site operations
Notes can include rich text, hyperlinks, and even small images
Improve data accuracy and support on-the-job training, with pop-ups displaying contextual data-entry guidelines
A platform for further customization when combined with Orchid Extender (Extended Notes)
Notes Features

s

You control not just what is displayed, but also where, how and to whom
Where to display Notes
Configure what triggers the display of Notes:
Any Sage 300 screen (including 3rd Party modules developed in the SDK)
Any Sage 300 data (e.g. specific Users, Customers, Items, batches or transactions)
Any Sage 300 field, including Grid fields, (except for check-boxes or drop-down selections)
Filter displayed Notes by specifying two fields, e.g. combine Vendor & Item
Store multiple Notes for the same field, and configure which will be displayed
Notes Options
Set Note colours, e.g. to indicate importance and attract attention
Include plain text, rich text, hyperlinks and even small images in a Note
Set display characteristics (e.g. Alert Box, auto pop-up, flashing tray icon)
Use Orchid Extender to create dynamic 'Extended Notes' (see below)
Use Orchid Optional Tables to create structured notes (see below)
Controlling Access to Notes
Optional role-based restrictions determine the functions available to users
You control who can add, edit, or delete Notes
You can set up role-based rules to target messages to the right people
Notes can appear every time the linked data is displayed, or be restricted to specific screens
Viewing Notes
When the user opens a Sage 300 screen or transaction record, any existing Notes linked to fields on that screen, or to the screen itself, will appear in the Alert Box (subject to any role-based restrictions).
Notes can pop-up automatically, and/or be accessed via a Note Icon or function key.
Flashing tray icon to indicate a note exists.
Pin the Alert Box to the associated screen, or unpin it (e.g. to display on a separate monitor)
Adding & Editing Notes
Edit and/or New buttons are presented in the Alert Box, allowing users to maintain Notes without leaving the Sage 300 screen (subject to any role-based restrictions)
If Notes have been configured for a screen but none currently exist, a blank Note icon will be displayed on the screen's menu bar and can be clicked to initiate entry of a new Note
Alternatively, a pop-up window can automatically prompt for entry of a new Note
Importing Notes
Use options and utilities to import Notes from a CSV file
Use Case Examples
Procedural notes to guide data entry – great for educating inexperienced users
Customer-specific notes, e.g. during Order Entry note that this Customer doesn't accept deliveries after 3pm
Item-specific notes, e.g. during Purchase Order entry note that this product is on special discount, or requires inspection upon receipt, or Model 123 is being replaced by Model 456
Dual-key Notes, e.g. Customer X has special labelling requirements for shipments of certain Items
Notes to support GL Budget entry, e.g. by account and date
Features relate to the latest supported version.
Notes requires Sage 300 System Manager.
Orchid Extender is required for 'Extender Script' Note Type, or to create a Note from an Extender event.
Orchid Optional Tables is required for 'InfoSet' Note Type.
International Contacts
Please contact us directly if your business is in the UK, Europe or other regions not listed here.