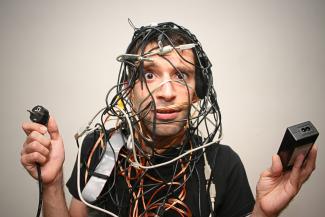 Overcoming the Disconnection Challenge
Accountants are forced to juggle multiple disconnected systems and limited tech budgets.


 
Acuity Magazine recently published this article, based on a survey of the biggest tech challenges facing corporate Chartered Accountants in the ANZ (Australia & New Zealand) region.
Analysis of the results showed by far the biggest tech issue to be what they've dubbed "disconnection challenges". To put it another way:
Too many systems that don't talk to each other, and no budget to fix it.
Adem Turgut, chief executive of automation and analytics platform SolveXia, put it this way:
People are spending hours, days, sometimes even weeks just assembling data together from all these different places, massaging it in spreadsheets, checking it and passing it on.
As well as the drain on resources, these ad-hoc processes have serious implications for data accuracy and integrity.
Many of these issues can be confronted by replacing disconnected applications with an ERP system, but it would be naive to imagine this will be a silver bullet. Companies still find themselves needing gap-fillers, ranging from cheap off-the-shelf apps to bespoke software development.
With the ERP implementation having used up the entire tech budget, it's almost like being back to square one.
Creating Connections…Where to Start?
Fortunately, for Sage 300 sites, Orchid Systems offers affordable add-on modules that can help resolve many of those 'disconnection challenges', and fill gaps in the capability of the core offering.
The Acuity survey went on to ask in which areas the companies were considering investing in technology to improve efficiency. The following categories all landed in the top half of the 14 options provided.
Once again, Orchid's Sage 300 add-ons have a lot to offer when it comes to creating connections, without breaking the bank.
Analytics & Reporting
Business Process Automation
Workflow Management
Document Management
Accounts Payable