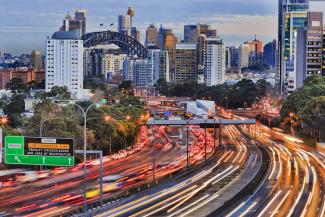 Is Remote Working the New Normal?
A large majority of CFOs agree that many workers who retreated to their homes during the COVID-19 lockdown may never return to the office.
The Warringah Freeway outside our North Sydney office, pictured above, has become "the road less travelled" for the Orchid team since we started working from home in March.
COVID-19 is proving to be the 'great disruptor' of our age
The world has been chafing at the bit for months to return to normality, but that's unlikely to be possible unless an effective vaccine can be developed and made available at scale. The wait has been so long that we're not even sure what normal means anymore.
There is an emerging acceptance that the new normal won't be the same as the old normal - and that this isn't necessarily a bad thing.
Some changes are being forced upon us, others are being willingly embraced. Many that seemed inevitable, but were happening at a snail's pace, have suddenly hit the turbo button. A prime example is our transition to working from home.
A Gartner CFO survey found that 74% of companies plan to permanently shift to more remote work post-COVID-19.
The key driver for this planning is cost savings, with CFOs looking to reduce spending on office space and on-premises technology, but it also speaks loudly to a significant change in attitude.
The extraordinary shift to remote working that accompanied COVID-19 lockdowns has turned into a massive social experiment. Many employers who had previously resisted flexible working are finding that their fears of productivity falling off a cliff were largely unfounded.
Similarly, employees who are reluctant to resume the daily commute find themselves in a much stronger bargaining position, having proven they can be trusted to work with less supervision.
The Worst of Times, the Best of Times
While entire segments of the economy have been devastated by the impacts of the pandemic, the remote working revolution has seen many businesses thrive thanks to good luck, good management, or a combination of the two.
At the top end of town, Microsoft has seen explosive growth in the use of Microsoft Teams. CEO Satya Nadella described it as "2 years' worth of digital transformation in 2 months".
Some much smaller businesses have demonstrated admirable agility. Here in Sydney, Stagekings saw their stage-making business collapse overnight like a house of cards. Within days they had reinvented themselves, designing and manufacturing flat-packed home office furniture.
Here at Orchid Systems, we've seen a lot of new interest in our own remote working solutions.
Our established products like Document Management Link and EFT Processing have become even more relevant, and we're preparing to launch the newest addition to the Orchid portfolio, our Remote Action service. (Look out for more about that in the coming days.)
We're continuing to work hard for our partners and customers...even if that means working hard from home.