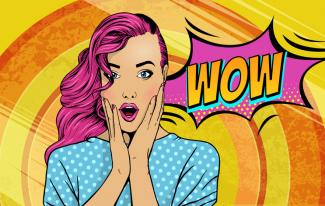 Python - Top of the Pops!
Python has hit the top of these charts for programming language popularity.
We've got Python on our minds again, having just attended TPAC 2020 in Richmond, Canada. One of our in-conference sessions focused on Extender, and we also hosted a 2-day 'Developer Deep Dive' showing how Python scripts can be used to get the most out of Extender.
Since our decision some years ago to choose Python as the scripting language for Extender we've taken a more than casual interest in watching its rise in popularity.
We've seen the conversation evolve from Python being "one to watch", to "when rather than if" it might become the world's most popular programming language. It could be time to say that moment has now arrived, at least according to the following surveys.
Power to the PYPL: Python is Tops
While there is no one definitive ranking of language popularity, the PYPL Popularity of Programming Language Index, seems as good a place as any to start.
This index is based on an analysis of Google searches for language tutorials, so it seeks to measure which languages programmers are most keen to learn. Their verdict is in:
Worldwide, Python is the most popular language.
By their measure, Python grew the most in the last 5 years (19.0%) and Java lost the most (-6.8%)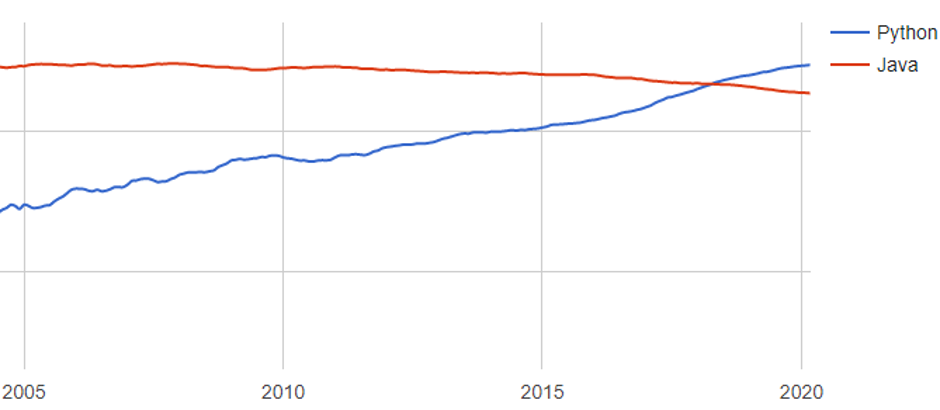 O'Reilly agrees: Python is Preeminent
O'Reilly online learning's annual analysis of the platform's most used content and most-searched-for terms provides an interesting barometer of what's on the minds of tech leaders.
At the start of 2019 their programming newsletter crystal-balled the languages to watch in 2019, saying:
Python's incredible growth over the past decade shows no signs of slowing.
And so it has proved. A year on, the number one finding from their most recent survey is:
Python is preeminent. It's the single most popular programming language on O'Reilly, and it accounts for 10% of all usage.
To clarify, that's 10% of all usage on O'Reilly learning, which covers a broad range of business and technology topics, not just programming related. (Java came in a distant second.)
They go on to say "this year's growth in Python usage was buoyed by its increasing popularity among data scientists and machine learning (ML) and artificial intelligence (AI) engineers."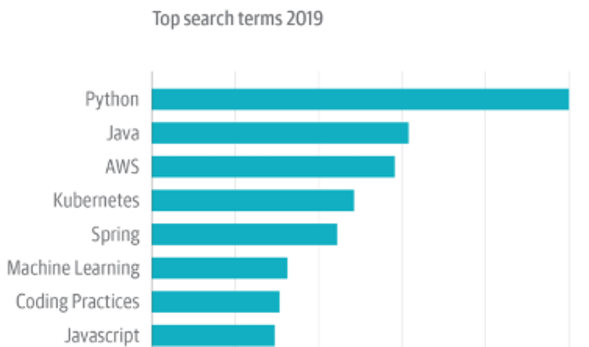 As IEEE sees it: Python remains the Big Kahuna
IEEE Spectrum's annual ranking combines data from multiple sources to rank the popularity of programming languages. While they have tweaked their ranking methodology, one thing hasn't changed:
Python remains firmly on top.
They say "Python's popularity is driven in no small part by the vast number of specialized libraries available for it, particularly in the domain of artificial intelligence."