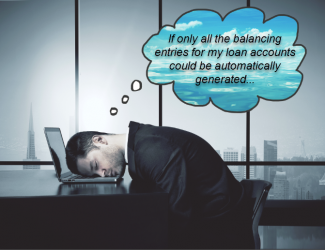 An Accountant's Dream Come True
Robert Lavery fell in love with Orchid's Inter Entity Transactions module, and it's an affair that has stood the test of time.
 
With Robert's permission, we've dusted off an article he wrote in 2005, shortly after Inter-Entity was launched. 
In the Spring, as the saying goes, a young man's fancy turns to love. For many people, finding that one true love is a dream come true.
As business people, we dream about coming up with a new idea or product that will vastly change the way we do business for the better. We would love to discover something that makes more money, reduces costs or saves our valuable time. This is especially true for organizations with transactions that span multiple entities such as Funds, Branches, Departments, Companies or Regions.
For anyone whose first love is accounting, a dream come true would be software that not only records transactions efficiently, but automatically generates the correct journal entries as you post transactions to the General Ledger.
Well, dream no more. Orchid Systems has created the Inter Entity Transactions module to do just that.
The software actually generates all Due To and Due From entries required to keep segments in your General Ledger Chart of Accounts in balance automatically as you post transaction batches into the General Ledger. These batches can originate from the GL, any Subsidiary Ledger, any third-party module, or any external system that generates GL transaction batches.
Conceptually, the system is surprisingly simple to set up. If you already have the segment codes you need (country, company or fund) that are used to generate inter-entity transactions you simply define which segments in your General Ledger Chart of Accounts are "Entities".
The next steps are as follows:
In the GL, create the Due To and Due From accounts for each entity in each company;
In the GL, set up a new Source Code called IY to identify an Inter-Entity transaction;
In Inter-Entity, link the Due To and Due From accounts; and
In Inter-Entity, create "Transaction Routes" for the Due To and Due From accounts between all entities.
Installing Inter Entity Transactions offers tremendous benefits. This module not only saves time and reduces the possibility of errors, but it can also detect posting errors that the Sage 300 GL wouldn't detect. For example, a journal entry that is in balance but contains the wrong GL Account would be accepted as a valid journal entry in Sage 300.
However, using Inter Entity Transactions, all journal entries not only have to be in balance (ie. Debits equal Credits) but they also have to balance within each "entity". Because Inter Entity Transactions validates the segments defined as "Entity" segments and only allows transactions that correspond with pre-defined Transaction Routes, it will identify posting errors that Sage 300's GL does not.
This is simply a module that you have to see in action to believe.
If your organization is a Not-For-Profit using Funds to track expenses or a multi-site business that needs to generate Financial Statements for each entity, you are a good candidate for this solution.
As a former practising accountant, I love this product. I wish there was a module like this when I had to manage journal entries and generate financial statements. It would have made my life a lot easier and less stressful.
In other words, a dream come true.
About the Author:
Robert Lavery is the founder and principal of Robert Lavery & Associates, the distributor of Orchid products in North America and the Caribbean.