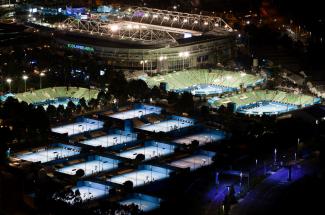 Melbourne hosts a Barty Party, then Rafa's 21st
An unashamedly Aussie take on the recent 2022 Australian Open tennis.

(Warning: This blog is a Sage 300-free zone.)


 
It's been 3 years since we last published an Australian Open tennis blog. After an extraordinary few weeks of drama, first off the court and then on it, we thought the 2022 Open warranted a new chapter.
Looking Back to 2019
Let's start by looking back at some of my observations from my January Serves It Up blog in 2019:
We picked out Ash Barty, Danielle Collins, and Stefano Tsitsipas as 'emerging powers'.
Seems they were pretty good tips, having just become 2022 champion, runner-up, and semi-finalist respectively.
 
Novak Djokovic demolished Rafael Nadal in the 2019 men's final.
That must have made this year's outcome an even more bitter pill for Novak to swallow, as he watched on from Belgrade.
 
We talked of an Asia on the rise in 2019, highlighted by Naomi Osaka's win.
This year, no Asian player made it past the 3rd round in the main singles draws. (Osaka's 3rd round exit saw her world ranking drop to a barely believable 85, but there were promising signs that she is getting on top of her well-publicised demons).
Now, onto our highlights from 2022
No Djoking!
For the two weeks leading up to the start of play, it seemed the only story in town was the saga surrounding Novak Djokovic's dramatic arrival, visa cancellation, successful appeal, and eventual deportation from Australia.
While none of the parties involved in this soap opera covered themselves in glory, there was little sympathy for Djokovic's plight amongst the 95% or so of eligible Australians who have been vaccinated against COVID-19. Support from his vaccinated fellow players also seemed muted, to put it mildly.
Barty Party
Ash Barty may not be a global superstar, but she was already one in Australia before becoming the first Men's or Women's Australian Open singles winner since 1978.
Ash has now achieved local legend status, joining indigenous icons like Evonne Goolagong and Cathy Freeman.
She cruised through to the final hardly dropping a service game, let alone a set.  The first time she seemed seriously challenged was when she went 1-5 down to Danielle Collins in the 2nd set of the final. The way she responded to close out the set and match 6-3, 7-6 says it all. After 7 rounds of Barty Party, the After Party could begin.
A cynic may say the draw fell Ash's way, having not faced a player seeded higher than 21. That would be unfair not only to her, but also to the players who knocked out top seeds in high-quality matches, only to then wilt against Barty's class, guile, and composure.
Having won 3 out of 3 Grand Slam finals, on 3 different surfaces, she should have finally put to bed any suggestion that she is not a worthy world Number 1, a position she has held for all but 4 weeks since June 2019.
Rafa's 21st
Less than 24 hours after Ash's triumph, we were treated to an astonishing men's final. Rafael Nadal had already surpassed expectations by making it to the final, having struggled with a serious foot injury for much of 2021 and played only a handful of matches in recent months.
The final against Daniil Medvedev, the de-facto top seed, reigning US Open champion, and a decade younger than Nadal, seemed to be heading towards an inevitable conclusion as the Russian took the first two sets.
Who could have imagined that, in the early hours of Monday morning, after 5 hours and 24 minutes on court, we'd be celebrating one of Rafa's greatest triumphs, and a record 21st Grand Slam title?
Following Djokovic's departure, there had been suggestions the 2021 men's winner's name should be marked down with an asterisk. Instead, his comeback for the ages made it worthy of being marked with an exclamation mark.
Special Ks
Aussie pair Nick Kyrgios and Thanasi Kokkinakis were dubbed the Special Ks in their junior days. They go back a long way. In 2013, Kyrgios beat Kokkinakis in the final of the Australian Open juniors, before they teamed up to win the boys' doubles crown at Wimbledon later that year.
Kokkinakis' very promising career, which included a 2018 victory over Roger Federer in Miami, has since been frustrated by injury upon injury. The reasons Kyrgios's achievements have failed to match his prodigious talent would take a book to do justice to.
Having made early exits from the singles draw, the two great mates got together for a bit of a hit and giggle in the men's doubles.
Thrilling their raucous fans, while upsetting traditionalists and opponents with their in-your-face showmanship, the unseeded pair filled stadiums, topped TV ratings, and carried the show all the way to the final.
Immediately after Ash Barty's final, they beat another Australian pair, Mathew Ebden and Max Purcell, for the trophy. It topped off a momentous night for the locals, and gave doubles a profile it hasn't had for years. Love it or loath it, they put on quite a show.
All Court Alcott
If Men's Doubles has historically had a low profile over the years, how about Quad Wheelchair Singles?
In Australia at least, Dylan Alcott single-handedly changed that. He's become one of the most recognizable faces in the country, not just for his sporting prowess, but for his larger-than-life personality and unstinting advocacy for people with disabilities.
In 2008, Alcott won Paralympics Gold in wheelchair basketball as a 17-year-old. Since 2014 he has dominated wheelchair tennis, with 15 Grand Slam titles in singles, and another 8 in doubles. In 2021 he achieved an historic Golden Slam, with singles wins in all four Grand Slams, plus Paralympics gold.
Late last year, he announced that this Australian Open would be his swan song.
Immediately after winning his semi-final, Alcott flew to Canberra to attend the Australian of the Year award ceremony.
Dylan, Victoria's nominee, was announced as the national winner for 2022, a title that guarantees a year in the national spotlight to continue his advocacy work.
After returning to Melbourne, he was denied a fairy tale ending to his tennis career, appearing to 'hit the wall' as he succumbed 7-5, 6-0, against Dutch 22-year-old, Sam Schröder. If anything this, plus recent epic battles with 18-year-old Dutch rising star Niels Vink, suggested he'd chosen the right time to retire on top and hand over to the next generation, knowing the sport is in safe hands.
Looking Forward
Where to from here for the Big 3?
It seems appropriate that our 3 Aussie Open blogs from 2018, 2019, and now 2022 have featured Federer, Djokovic, and now Nadal as Men's Singles winners.
Are we witnessing the final chapter in their 20-odd years of dominance? My tips:
Roger Federer: At 40, and following months of rehab from his latest knee operation, I can't see Roger being a force at Grand Slams again. I'd love to be wrong, but my tip is that 2022 will see him make a limited comeback before announcing his retirement, perhaps saying farewell at Wimbledon 2022.
 
Rafael Nadal: After his Melbourne heroics, he'd have to be a big chance to win at Roland-Garros for the 14th time, and get to 22 Grand Slams. Anything beyond that is a little hard to imagine, especially given the number of emerging young stars.
 
Novak Djokovic: There's no doubt he still has the physical prowess and willpower to add several more Grand Slams to his record. The wildcard is the extent to which his stubbornness around vaccination will thwart his ambition. He may never get the chance to add to his 9 Australian Opens. There are serious doubts over whether he'll be permitted to enter the French or US Opens, but expect him to be a hot favourite for Wimbledon.
Ones to Watch
It's hard to believe from the length of this blog, but I barely watch any tennis other than the Grand Slams! No doubt there are many other emerging stars who have escaped my attention, but:
Ignoring the more established names, these are a few players who really caught my attention at the Australian Open:
Danielle Collins (USA): Hardly a young gun at 28, but 'the Danimal' has a seriously impressive power game, and is tough as nails. Finally playing pain-free after overcoming her battles with undiagnosed endometriosis, expect her to be a fixture in the Top 10, and a regular contender at Grand Slams, for some years.
Jannik Sinner (Italy): 20 years old and already in the Top 10! The way he made light work of Aussie Alex de Minaur was eye-opening. He looks sure to be a major force as his beanstalk frame fills out.
Felix Auger-Aliassime (Canada): The 21-year-old went within a whisker of knocking out Medvedev in the quarters, and was super-impressive.
Carlos Alcaraz (Spain): Top 30 at just 18, already a US Open quarterfinalist, and took eventual semi-finalist Matteo Berrettini to a 5th set tie-breaker in the 3rd round. A superstar ready to break out.
Let's all get back together in a year or two and see how those predictions pan out!