The Company
Orca Oz Enterprises are an unreal company whose staff bear an uncanny resemblance to the team at Orchid Systems. Orca have found many creative ways of using Orchid's Sage 300 add-ons to solve everyday business problems. They have kindly agreed to let us publish a series of Case Studies. We call them the Chronicles of Orca.
Picture This
We know a picture is worth a thousand words, so we asked @Jimesey,  Junior Freelance Designer at @pa_stek, to draw up a storyboard that illustrates the scenario we've described in more detail below.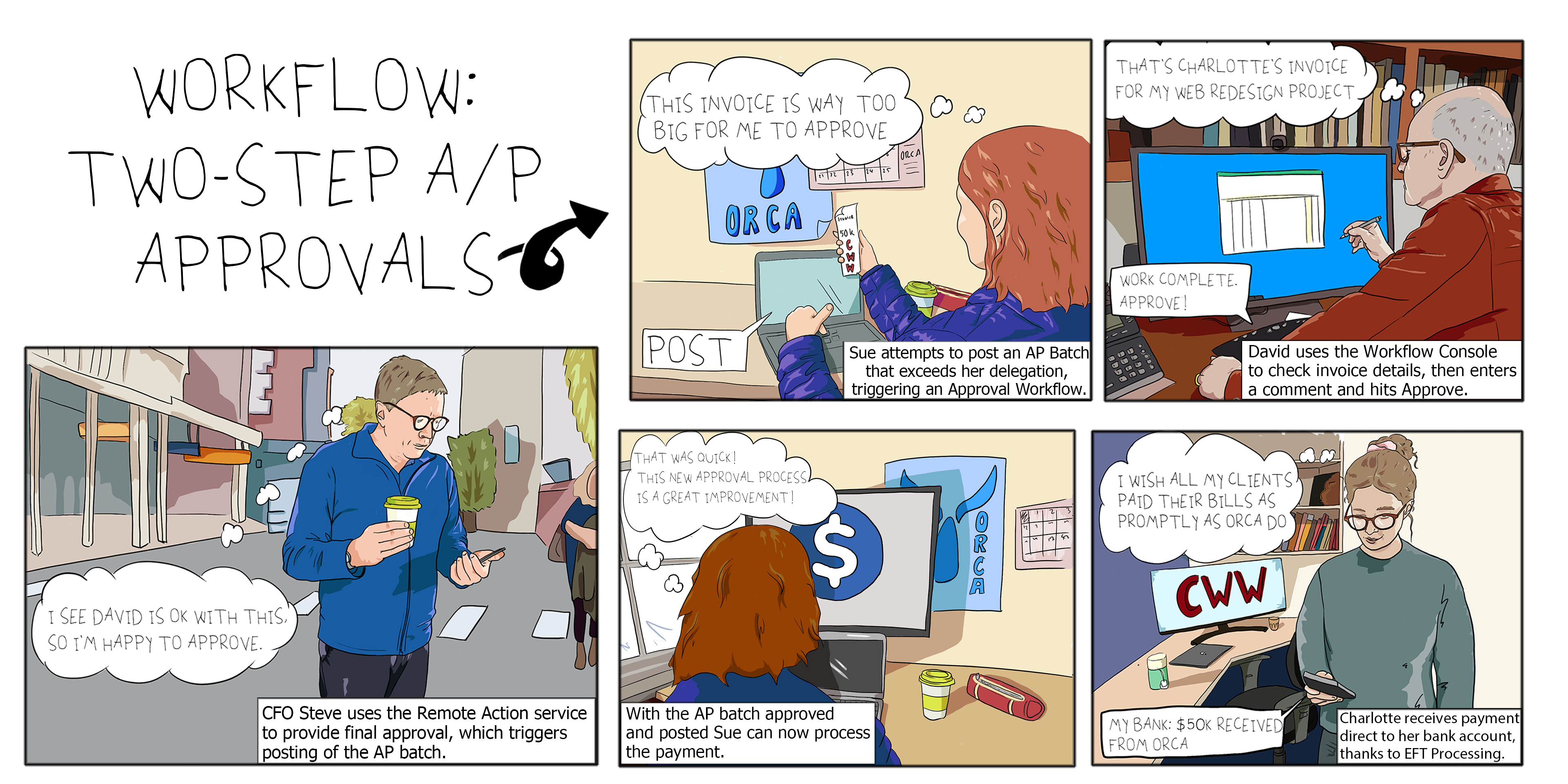 Tip: Would you like to see a bigger image? Depending on your device and browser try clicking it, or right-clicking then selecting 'Open image in new tab' or 'View Image'.
The Challenge
Orca's Governance Committee has published a range of business rules that need to be strictly enforced.


One of these covers Accounts Payable Approvals.
Invoices up to $1000 can be approved and posted by Sue, Orca's Office Manager.
Invoices greater than $1,000 need to be approved by another member of Orca's A/P Approvers Group.
Invoices greater than $10,000 also require final approval by Steve, Orca's CFO, before they can be posted and paid.
Orca's management challenged their Sage Solution Provider to come up with a solution that:
Enforces compliance with the above business rule.
Automates as many process steps as possible.
Allows approval steps to be completed by staff who don't have access to Sage 300.
The Solution
Orca's solution provider fulfilled their brief using the following products and services, all from Orchid Systems:
Extender Workflow capability, included with Orchid Extender
Remote Action, a new web-based service that allows Extender Workflow actions to be executed from any internet-enabled device, outside of Sage 300
Process Scheduler, providing integration between Extender Workflow and the Remote Action service
Scenario Walkthrough
Sue has just received an invoice for $50,000 from their website development partner, Charlotte's Web Work (CWW). This is a great opportunity to test and demonstrate the newly implemented A/P Approvals process.
Sue receives the $50,000 invoice from Charlotte's Web Work, and enters it into the A/P Invoice Entry screen in Sage 300.
She knows this amount is above her $1,000 delegation, but attempts to post the A/P Batch anyway, knowing that this will trigger the automated approval process.
Submission of the A/P Batch triggers a Workflow in the Orchid Extender module.
As the invoice is over $10,000 a 2-Step-Approval process is required.
Workflow creates an approval task and assigns it to the A/P Approvers group. The batch will remain at 'Ready to Post' status until the approval workflow has been completed.
David, Orca's Marketing Manager, is a member of the approvers group. He regularly monitors the Workflow Console, and spots the new task. As the invoice relates to his web redesign project he takes responsibility for reviewing it.
David drills down into Sage 300 from the console to take a closer look at the invoice. He's satisfied that the work referred to on the invoice has been completed. He enters a comment to that effect, using the console, then hits the Approve button.
Approval by David triggers the next Workflow step, which is final approval by Steve, Orca's CFO.
Steve has stepped out of the office for a coffee. He's browsing on his mobile phone when in pops an email notifying him that a new A/P Approval task has been assigned to him. 
Steve has been having regular meetings about the web redesign project with David, who he knows is on top of things. If David is happy that the work has been done that's good enough for him. Steve wants to keep things moving by approving the invoice for payment straight away.
Steve doesn't have access to Sage 300 from his phone, but that doesn't matter. He can approve the workflow task using Orchid's new Remote Action service.
A hyperlink in the email takes Steve to a Remote Action web page specific to this Workflow task. He reviews David's comment, enters a brief comment of his own, and hits the Approve button.
Process Scheduler regularly runs a script to check the Remote Action service for newly completed tasks. It picks up Steve's approval action and updates the workflow instance.
Workflow recognises that this is the final approval step, so it posts the A/P Invoice Batch and sets the workflow instance to complete.
The Result
Sue has also been monitoring her Workflow Console. She's pleasantly surprised to see that the approval workflow has been completed so quickly, given that Steve is still out and about somewhere.
She can see in Sage 300 that the AP batch has been posted, and can now go ahead and process the payments using EFT Processing, another product from Orchid Systems.
Charlotte gets an SMS from her bank notifying her that $50k from Orca has just been deposited into her account. She is thrilled with how quickly her invoice has been processed!
Orca's new A/P Approval solution has saved time and effort, ensured compliance, supported their new remote working regime, and resulted in faster payment to the vendor. Everyone's a winner! 

Automated compliance, including remote approvals outside of Sage 300? If this is the new normal then I'm all for it!
Sue, Office Manager, Orca Oz Enterprises