With 30-odd new Orchid videos, and more coming each month, it's time for some serious binge viewing.
Tuesday, 13 March 2018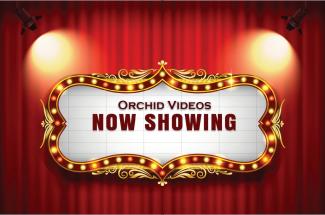 The Academy Awards have come and gone, and it seems we've missed out on the Best Documentary Oscar once again, but if there'd been a gong for "Most Prolific" we may well have been in the running.
Our video production team went missing in action for a while, but recently we've been making up for lost time.
Since the start of 2017 we've added about 30 new videos to our library, with more coming each month.
All our videos are published in the Resources area of our website, where they can be filtered by product category. (A few are only visible after logging into the site). Links to product-specific overview and demo videos can also generally be found in the sidebar of the product pages of our website. 
They can also be found on our YouTube channel (look for the link in the top-right corner of all our website pages). To make life easier for you we've set up playlists for the different categories of video. At the time of writing these are:
Module Overviews: Just a few minutes long, these provide a brief introduction to the key features and benefits of Orchid range of Sage 300 add-ons. They generally focus on a specific product, and are suitable for use as sales resources.
Module Demos: These longer videos (usually 40-60 minutes, and most of which can also be found in the Webinars playlist) show the products in action, in some detail.
Module Training Videos: These videos, targeted at our business partners, go beyond demonstrating what the products do, and step into the detail of how to make it happen. (We'll start publishing new training videos for all our products from June 2018 onward.)
'Themed' Webinar Recordings: Each of our 'themed' webinars covers a range of Orchid products from a specific angle.
Extender Sample Script Demos: These demonstrate what you can do using selected sample Python scripts for Orchid's Extender module. Some a just a few minutes long and focus on a single script, others are longer feature a range of scripts. .. (There's not much to see here at the time of writing, but watch this space as we'll be producing more.)
Testimonials: In these short videos you'll hear Orchid business partners, customers and end-users talk about their experiences of working with Orchid products. These can also be useful sales resources.
Dim the lights, pop the corn, and use these great resources to find out what you or your clients can do using Orchid's Sage 300 add-on modules. Other than hitting the play button, you won't need to lift a finger.