Struggling to work out which Orchid products might be relevant to you or your customers? This simple new brochure is designed to make things easier.
Thursday, 6 July 2017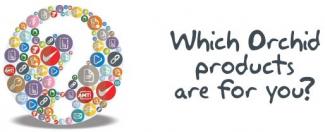 Given the number of Sage 300 Add-ons available from Orchid it's no wonder some can fly under the radar. Most of us are too time-poor to browse through wads of brochures…a little ironic given that many of our solutions are designed to increase productivity and give users back some of that scarce time!
In response to requests for a "cheat sheet" we've produced a new overview brochure titled "Which Orchid products are for you?" It's simple questionnaire format cuts to the chase, listing each of our products and helping you quickly identify:
Is this product likely to be relevant to their business?
Does the problem it seeks to address sound familiar?
If so, does our product look as if it may be worth a closer look?
We gave this brochure its first public outing at the recent Sage Summit event in Toronto, and the response was great. We saw business partners taking the brochure, using it to have a quick conversation with their customers, then coming back to our stand to ask for more detailed information on specific products that piqued their interest.
Have a look at it for yourself, and see if it can help you to identify relevant solutions for your business, or start a conversation with your customers.