It's not the United Nations, it's the Australian Open, but all these flags remind us that the world is increasingly connected and complex.
Tuesday, 5 February 2019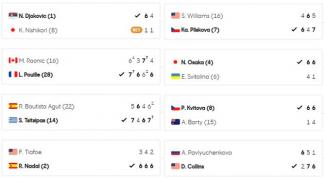 The end of January saw much of North America frozen solid courtesy of the Polar Vortex. The US Government had been equally frozen for the entire month before a late thaw, if only a temporary one.
At the same time, Sydney was sweltering through a 40C day. That was just an exclamation mark to end Australia's hottest month on record, following directly on from our hottest December on record. Meanwhile, Townsville in North Queensland is being devastated by record-shattering rainfall and flooding, and large areas of Tasmania's world-heritage wilderness are ablaze.
With all that happening you might say February couldn't come soon enough, but January wasn't all bad.
January down under also means the Australian Open tennis, and the 2019 edition didn't disappoint. Let's take our annual recap.
Novak Djokovic's demolition of Rafael Nadal in the men's final was something to behold. The showdown between the No 1 & 2 seeds had been highly anticipated, but ended up being a near walkover.

For most observers, the tournament highlight was Naomi Osaka's hard-fought victory over the admirable Petra Kvitova. Osaka's back-to-back major victories confirmed her arrival as a bona fide superstar. This time she was able to get the recognition she deserved, after Serena Williams had stolen the limelight (though not the trophy) at last year's US Open.
A metaphor for global power shifts?
The image above shows the quarterfinal line-ups from the men's and women's singles draws. 16 players, 11 nations, 9 currencies.
That collection of flags wouldn't look out of place outside the United Nations HQ, so with that in mind let's take a closer look at the power dynamics.
A couple of established superpowers in Djokovic and Nadal maintaining their dominance.

Others, in Federer and Williams, reminding us that nothing lasts forever.

Osaka flying the flag for an Asia on the march.

Emergent powers (e.g. Barty, Collins and Tsitsipas) starting to make their presence felt.

Raonic showing that a powerful artillery can win many battles, but maybe not the wars.
Let Orchid help you navigate international complexities
This time last year we were celebrating Roger Federer's title defence, and I justified my 2018 Australian Open blog by drawing some pretty tenuous parallels between Roger's and Orchid's last 25 years. His 2019 attempt at a three-peat was derailed by the very impressive 20-year-old Greek, Stefanos Tistsipas, so this year I'll need to find another angle.
All those national flags above could also be a metaphor for the globalized economy. Our January article on Supercharging Sage 300 listed many of the ways that Orchid's products can help manage multiple currencies and deal with international business complexity, so let's close off by revisiting some of those points:
Use

Inter Entity Transactions

and/or

Inter Entity Trade

to simplify transactions between related entities with different functional currencies.
Use

Optional Tables

to store custom, region-specific information.
Use

Extender

and

Process Scheduler

to help automate processes that cross company boundaries and national borders.
Use

Info-Explorer

and

Report Runner

for cross-border reporting, including the generation and distribution of cubes for offline analysis.
About the Author:
David Lacey is Communications Manager at Orchid Systems. You can find out more about David and other Orchid staff members at the bottom of our About Us page.