Since you are reading this article, you've clearly found your way to orchid.systems, our new home on the web.
Friday, 2 June 2017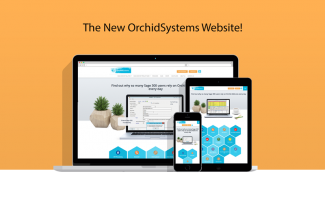 If we've done a good job our new site should be so easy to navigate that this article isn't necessary...but here's a summary of some things to look for anyway!
If you were familiar with our old site you'll immediately notice it's had an extreme makeover - in fact it's been redesigned from the ground up. While we hope you like the fresh look, the purpose of the redesign is to make it easier to quickly find what you need, or to interact with us.
Public Information:
All visitors to the site should be able to easily access the following. Where you see hexagon tiles you can use these to jump straight to a page, or to apply a filter.
Product Overviews: Up-to-date information about Orchid's Sage 300 add-ons can be accessed from the main menu, or by clicking on the hexagons part way down the front page.
Product Brochures: On the right-hand side of the individual product pages you'll see links to our product brochures, downloadable as PDF files in either A4 or US Letter format.
Case Studies: Read some real-life examples of how companies have used our products to solve their business problems.
Blog: We regularly publish short articles (like this one!) that we hope you'll find useful or interesting.
Events: Find out what our plans are for exhibiting or providing training on our products. View past events to see what we've recently been up to.
Resources: A one-stop-shop for product & case study brochures, videos, and selected "try before you buy" product downloads.
Become a Partner: To join our reseller program and access demo copies of our products, go to the Become a Partner button at the top of the page. 
YouTube channel: We're working behind the scenes to produce a whole new range of product overview and training videos, which will be uploaded to our YouTube channel. Look for the link in the top right corner of our site, and please take a moment to subscribe to our channel, so you can be among the first to know when we post updates.
Business Partner information (login required):
Other resources are only available to registered Business Partners once they have logged in to our site. These include all product downloads, sample Extender scripts, object models, training guides, some additional videos, and access to our Knowledge Base.
Logging In: You can now login with either your username or email address. Usernames from our old orchidsystems.biz site have been carried across to the new site, but the first time you log in you'll need to select a new password, using the Reset Your Password button on the login page.
Password Reset Problems? When you request a password reset, an email will be sent to the email address we have on file. If you don't receive it, it might be because we don't have your current details. You can re-register using the "Become a Partner" link or ask us to check and update your details, either via the Contact Us webform or by emailing support@orchid.systems.
Once logged in, here are a few things other things to look out for:
Use the My Account button at the top of the website to update your details
Use the Activation Code Request link on the Resources menu for NFR or client activation codes.
Use the Info Explorer Registration Form link on the Resources menu for new Info Explorer codes (which require a machine name), or when a machine name changes
Knowledge Base (and Single Sign-On): While we still use the ZenDesk platform, you no longer need a separate sign-on. You can now access it directly from the KnowlegeBase link under Resources on our website. Once there you can search for or browse technical articles, then view, follow and comment on them.
Monitoring your Support Tickets: From within the Knowledge Base, select My Activities from the dropdown menu next to your username, in the top right corner, to view your current or closed tickets.
Open a new Support Ticket: From within the Knowledge Base, use the "Submit a request" link at the top of the page. Alternatively, use the Support Ticket button at the bottom right of any page on our main site. (This is equivalent to emailing support@orchid.systems .)
Coming Soon
Viewing existing Activation Codes and end-user details. We know you've asked for this, and we are onto it. It isn't available for the initial launch of our new site, but will be coming in a (not too distant) future update.